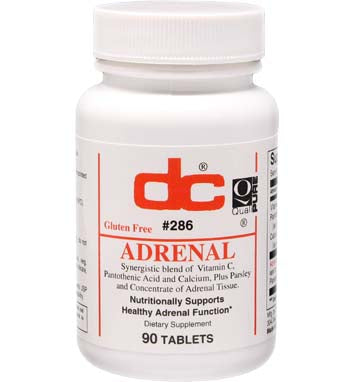 ADRENAL (90 Tablets)
Estimated delivery between December 10 and December 12.
Tailored Multi-Vitamin for Adrenal Support
Gluten Free, Non GMO
Provide your Adrenal System the support it needs with Adrenal from Dee Cee. A Synergistic blend of Vitamin C, Pantothenic Acid and Calcium, Plus Parsley and Concentrate of Adrenal Tissue, that is formulated to nutritionally support healthy adrenal function*
Vitamin C
Vitamin C is an essential cofactor in the adrenal system. The adrenal gland is where you can find some of the largest concentrations of Vitamin C within the body. Ascorbic Acid (Vitamin C) is a required vitamin for both adrenal steroidogenesis and catecholamine biosynthesis. A lack of Vitamin C can lead to a condition called adrenal fatigue which symptoms include fatigue body aches, weight loss, loss of hair, and low blood pressure. Vitamin C is needed to support adrenal fatigue.*
Pantothenic Acid
Also known as Vitamin B5, is critical in the healthy production of adrenal hormones that the adrenal glands produce. A lack in the production of these glands can lead to health problems such as fatigue, depression, stomach pains, burning feet, and muscle cramps.*
Calcium
Recent studies have shown that Vitamin D may have an impact in endocrine diseases such as Type 1 and 2 diabetes, adrenal diseases, and polycystic ovary syndrome. Vitamin D has also shown to have a positive effect on adrenocortical cancer cells and further studies by those within the Endocrine Society are looking to support individuals with a medical diagnosis of an adrenal disease to have a Vitamin D nutritional supplementation.*
Parsley
The herb parsley is known for its impact on many body systems and the adrenal system is no exception. Like the other vitamins and minerals within Adrenal, parsley was chosen for its many impacts in supporting a healthy adrenal function.*
Concentrate of Adrenal Tissue
Taking directly adrenal tissue helps to support your adrenal system and assist in controlling adrenaline and cortisol levels.*
Conforms to USP <2091> for weight. Meets USP <2040> disintegration for maximum bioavailability.
Made in USA in an FDA Registered Facility using Good Manufacturing Practices (GMPs)
Caution: If you are pregnant or nursing do not take this product.
*This statement has not been evaluated by the Food and Drug Administration. This product is not intended to diagnose, treat, cure or prevent any disease.
---
Supplement Facts
Serving Size: 1
Amount Per Serving
%DV

Vitamin C (as L-ascorbic acid)

5 mg
8.3%

Pantothenic Acid
(as calcium pantothenate)

10 mg
100%

Calcium
(as calcium carbonate)

50 mg
5%

Adrenal tissue concentrate 80 mg** (equivalent to 7 1/2 grains 486 mg of raw adrenal). Parsley Extract 4:1 (leaf) 25 mg**
**Daily value not established.
Other Ingredients: Calcium carbonate, veg. cellulose, veg. stearic acid, veg. magnesium silicate, vanillin, silica.
Directions: As a dietary supplement, take 1 tablet three times daily.
Share information about your brand with your customers. Describe a product, make announcements, or welcome customers to your store.
Share information about your brand with your customers. Describe a product, make announcements, or welcome customers to your store.